Registration is now Open!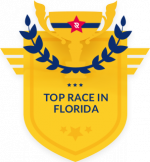 JANUARY 2017 5K HIGHLIGHTS
A record-breaking 350 runners joined in the
Health First Fight Child Hunger 5K – Run/Walk 2017

Video by Craig Bailey, FLORIDA TODAY
Thanks to our many supporters, fewer children will go hungry here on the Space Coast. With more than 300 runners registered for the race on the day before the event, the Health First Fight Child Hunger 5K exceeded all expectations for the three organizations partnering to end child hunger in Brevard: Health First as title sponsor, The Children's Hunger Project, and Sharing Center of Central Brevard. The quest to feed hungry children in this county led to the creation of this special 5K. Honorary Chairs Bob Gabordi and his daughter Jessica were onboard from the very beginning! Keith Gee of TCHP said on Friday, "The excitement this week has been building and I know this is going to be a fantastic event."
With over 40 volunteers as well as the support and partnership with Health First, FLORIDA TODAY, iHeart Media and Ropert and Partners so many have gone above and beyond to make this event a success.
Kim Agee of Health First said to Keith Gee (as 300+ people lined up at the starting line), "Well, I guess we're doing this!"
As a first-year event it was unknown how many people would sign up. Trying to make sure all the pieces were coming together over the months before the event's culmination was no easy feat. Don Piercy of Running Zone stated, "I love this course!"   Click here for race results.

Visit our Facebook album. Many photos are part of FLORIDA TODAY'S album.